TRAINING FOR TRAINERS IN FACILITATION SKILLS
Does your job require you to train others? Do you often have to work with groups of people? Have you ever wished that you were a more effective trainer? Have you experienced training exercises which you enjoyed, but which you do not know how to organize for others? If the answers to any of these questions is "yes" you will most likely benefit from one or more of the following training sessions.
THE TOOL BOX:AN INTRODUCTION TO EIGHTEEN TEACHING/LEARNING STRATEGIES FOR FACILITATORS
This five-day workshop is designed to introduce participants to basic adult education principles and to eighteen teaching/learning strategies which are used by effective trainers. The techniques covered include simulation, games, energizers, role plays, small group work, talking circles, artistic expression, paper-and-pencil exercises, case studies, oral presentations and audio-visual aids.
The participants of this workshop will have the opportunity to learn about the benefits of using each particular strategy, to explore some guidelines for its use and to experience one or more examples of that approach. This is an active session which combines theory with experiential learning.
A facilitator's manual which provides basic information about the teach/learning strategies covered in this workshop is used as a text book for this course and is available for purchase.
USING GAMES AND STORIES FOR TEACHING
Both games and stories can be used as powerful aids to the learning process. When used appropriately, these techniques can be used to help people remember information and to understand ideas at a much deeper level. Long after the workshop is over, people will remember the stories and the games. If these can be linked up to other information people will remember that other information too. Stories and games also help people to stay alert and focused so that they are able to take in new information and skills much more easily. In many cultures, stories and games were commonly used to help people gain new insights and to change ways of thinking and acting which are harmful.
This three-day workshop will expose participants to games and stories which they can use in their own training work and will also show them how to use these techniques as aids to learning rather than simply as entertainment. Participants will also have the opportunity to share games and stories which they already know how to use.
KEEPING GROUP PROCESSES ON TRACK
Many workshops or other types of groups learning situations get off track for a number of seasons. In most groups it is difficult to achieve equal participation by everyone. There are usually people who are very dominant and other who seem content to just sit back and watch. Other times there is so much variation in terms of interest and ability between group members that it seems impossible to meet everyone's needs. It can also happen that conflict between group members that it seems impossible to meet everyone's needs. It can also happen that conflict between group members and disrupt the learning processes for everyone. Other times, the group just does not seem to click, and the workshop feels dull and heavy or people show up for sessions late, leave early, or just simply fall asleep. Another problem that can occur is that the group takes over the session, leaving the facilitator feeling powerless to accomplish the learning objectives that have been set.
This two-day workshop examines the types of training problems described above and offers practical suggestions about what can be done to get the group back on track, learning, focused and productive. Participants will have the opportunity to practice some of these suggestions with the class and to learn from the successes and challenges that others have faced in trying to work with difficult group situations.
PRESENTING INFORMATION EFFECTIVELY
One of the big challenges facing any trainer is that of presenting information effectively. This three or four-day workshop (depending on the number of participants) will help people learn how to assess the learning needs of their audiences, to prepare an informative and interesting presentation, to use aids (such as audio-visual materials, demonstrations or stories), and to overcome some of the obstacles to making presentations (such as nervousness or challenging comments from the audience). Participants will have the opportunity to prepare short presentations and to receive the constructive comments of their classmates and the trainer.
DEVELOPING A TRAINING SESSION FROM A TO Z
This intensive five-day workshop will cover all the basics of developing an effective training session from the principles of adult education, to choosing and preparing an appropriate facility, to preparing learning objectives and establishing an agenda and to preparing all the activities, presentation and exercises. Each participant will have the opportunity to leave the session having prepared a training session of their own which will be appropriate to the particular audience and circumstances they are likely to face. They will also come away with a whole new "bag of tricks" in terms of new training exercises which they will be able to use in the future.
FACILITATING CONFERENCES, SEMINARS AND OTHER LEARNING EVENTS
Almost everyone has been to a conference or seminar which sounded good in the brochure, but which, in the end, did not live up to the expectations which the participants had for it. A lost of things can go wrong between having a good idea for a conference and the moment that everyone leaves the sessions and all the bills have been paid.
This two-day workshop will look at some of the common problems that conference or workshop organizers face and what can be done to avoid them. It will especially focus on the skills involved in planning an integrated, enjoyable and effective learning experience for all the conference participants. Those attending this training session will have the opportunity to learn how to make an overall plan for a conference which meets the needs of the many different types of people who will participate and which uses common strategies such as key note addresses, focus group discussion and workshops effectively. They will also be exposed to new ideas, such as using games, stories and the arts.
EXPERIENTIAL LEARNING
One of the least effective teaching strategies is simply to tell people what we want them to learn. Yet, this technique is the one most commonly used. An experiential approach, on the other hand, is one which actively involves the learners.
This approach to learning can have many advantages over one which relies primarily on oral presentations. People remember what they have learning "by doing" much more easily than what they have simply had someone explain to them. It is a known fact that most people have limits as to how much they can take in when they have to sit passively and listen. On the other hand, a training style which keeps people actively involved also helps learners to stay much more alert and motivated. Another benefit of experiential has to do with the fact that different people learn in different ways. An experiential approach to learning uses hearing, seeing and moving in order to make sure that everyone will be able to learn in the way that is most effective for them. Many people who have been turned off to learning by school become very excited about experiential learning.
This three-day workshop will expose the participants to a variety of experiential learning techniques, including simulation games, cooperative learning and the arts.
A NOTE FOR EDUCATORS
Four Worlds also has a brochure which outlines workshops and learning resources specifically designed to help educators working in the school system. These workshops cover such topics as curriculum development and culturally appropriate education methods. If you are interested in this information, please contact us.
A NOTE FOR YOUTH WORKERS
Four Worlds offers training and services for trainers who work with young people. If you want more information about these workshops, please contact us.
FOR MORE INFORMATION ABOUT ANY OF THE MATERIALS AND WORKSHOPS DESCRIBED ABOVE, PLEASE CONTACT;
Phil Lane, Jr., International Coordinator Four Worlds International Institute for Human and Community Development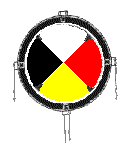 Click the Medicine Wheel to go Back
Return to Four Worlds Home Page
FOUR WORLDS/FOUR DIRECTIONS INTERNATIONAL
347 Fairmont Boulevard, Lethbridge, Alberta T1K 7J8 Canada
Phone: (403) 320-7144 Fax: (403) 329-8383 E-Mail: 4worlds@uleth.ca